"Five years after the Wall Street meltdown, the agency that protects consumers finally has a confirmed chief.
On Tuesday, the Senate voted 66-34 to confirm Richard Cordray as director of the Consumer Financial Protection Bureau. 
The bureau was created after the financial crisis with a mandate to protect the public from abuses that helped lead to the Great Recession. 
However, much of the financial industry has opposed the bureau's creation, and Republicans have used a filibuster for nearly two years to prevent Cordray from getting the confirmation. The bureau needs a director to regulate some financial industries." 
"Republicans had been demanding Obama to agree on structural changes to the consumer bureau which would have weakened the bureau's powers."
Source: CNN/Money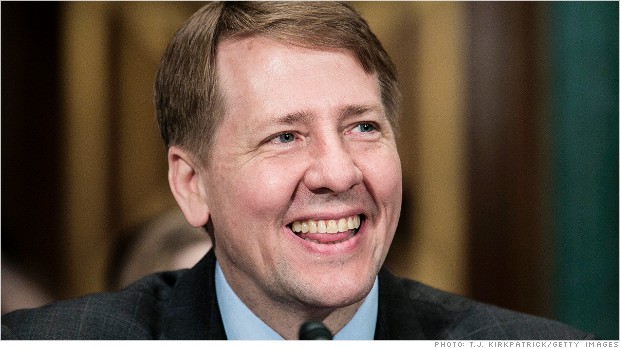 Oh My Christian God!!
Protecting consumers and regulations in the same article?!
Thanks to taxpayers the markets have been restored quite nicely, thank you.
The Consumer Financial Protection Bureau's mission statement says it all:
"Our mission is to make markets for consumer financial products and services work for Americans — whether they are applying for a mortgage, choosing among credit cards, or using any number of other consumer financial products.
Above all, this means ensuring that consumers get the information they need to make the financial decisions they believe are best for themselves and their families—that prices are clear up front, that risks are visible, and that nothing is buried in fine print. In a market that works, consumers should be able to make direct comparisons among products and no provider should be able to use unfair, deceptive, or abusive practices."
Terrifying! 
This tears at the very heart of many business models!